Wood Carving & Engraving Drill Bit Set
NEW DRILL BIT SET!
Now you can easily complete any type of wood carving project, with faster and higher precision detailing with the Wood Carving & Engraving Drill Bit Set
Simply attach it to a Drill and you are good to go! Convenient & easy to use, which allows you to carve wood effortlessly, unlike traditional carving which may damage and bruise your hands.
It cuts fast, lasts long, and works efficiently where other conventional tools usually fail! The perfect tool for DIY wood projects, create your own wood crafts, and bring the masterpiece into life!
FEATURES
Highly Efficient:
These burrs are intended for faster wood removal. Made of sharp high-speed steel, you can easily pare away woods much faster while leaving a smoother finish.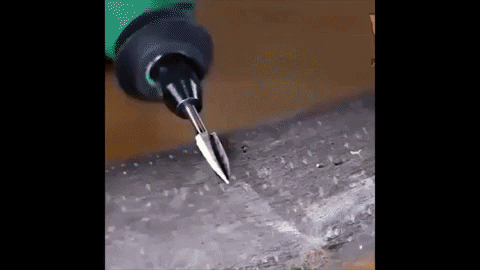 Optimal Precision and Detailing 
Make wood carving a breeze without damaging the woods. Get accurate results with a smooth finish. No retouch needed.
Simple & Easy
Just install it like any other typical drill bit and it's ready for some great action.
Widely Compatible 
The universal shank fits most drilling tools and the bits are available in multiple bit sizes to fit your carving needs! It can be used for wood, acrylic, PVC & ABS plastic.
Build to Last
Ultra-durable carving bits with high resistance to corrosion and impact. They can withstand intense and heavy use. A great tool to consider for everyday and repeated use
SPECIFICATION
Material: High-Speed Steel
Shank Size: 3mm
Head Shaft Sizes: 3mm, 4mm, 5mm, 6mm, 8mm
We hope that your experience with Beumoon is as effortless as possible, however, we do acknowledge that questions may arise.
Where is my order?
You can find information about shipping & handling  and track your order in TRACK YOUR ORDER Please note customers are not responsible for any customs and tax charges for their order, as we will bear all costs.

What is my tracking number?
Tracking will be available 1-3 days after your order. Please do reach out if you haven't received yours after 7 by contacting support. 
My item arrived damaged, what should I do?
We do ship every item with extra padding. Despite this, our customers report that around 1 in 1000 products arrives damaged due to mail service mistreatment.
If this happens to you, please reach out with:
- A picture of the damaged product.
Once received, we'll be happy to send out another free of charge.
Contact us:
If we still haven't managed to answer your question please feel free to contact us at Info@Beumoon.com and we'll get back to within 24-48 hrs.