Squirrel-Proof Bird Feeder
KEEP YOUR BIRDS HAPPY AND WELL FEEDING!🐦

Looking for a solution to keep pesky squirrels away from your bird feeder? Look no further than the Squirrel-Proof Bird Feeder - the ultimate solution for bird lovers!
This feeder features a spinning mechanism that detects when a squirrel tries to access the seed supply. The feeder then gently tosses the squirrel off before it can devour your seed supply, making it a fun and effective way to keep squirrels at bay.

This feeder is designed with a squirrel-proof mechanism that supports the weight of large birds while deterring squirrels from stealing the seed.
Also it has four feeding ports and a circular perch, allowing multiple birds to dine at the same time. The internal baffle ensures less seed waste and makes filling and cleaning a breeze.


Tube bird feeder holds up to five pounds of birdseed and has four feeding ports
The feeder is also incredibly easy to fill and clean, with an internal baffle that ensures the seed stays dry and fresh and flowing freely to all four seed ports.

This is a humane way to deal with persistent squirrels, as there are no shocks or poisons to harm them. It's simply a fun ride that they won't be inclined to repeat. Meanwhile, birds are free to eat without disruption, providing a beautiful bird-watching experience for you and your family.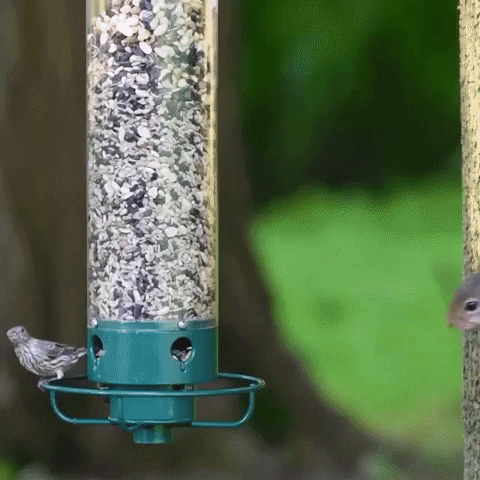 When you receive the feeder, simply hang it from its looped bail wire and prepare to be amazed and entertained. The feeder is connected to a weight-activated perch ring that won't be set off by birds, even larger species like woodpeckers and cardinals.
Upgrade your bird-watching experience with our easy-to-use and easy-to-clean Squirrel-Proof Bird Feeder. Say goodbye to constantly refilling your feeder and hello to a beautiful backyard filled with birds!
We hope that your experience with Beumoon is as effortless as possible, however, we do acknowledge that questions may arise.
Where is my order?
You can find information about shipping & handling  and track your order in TRACK YOUR ORDER Please note customers are not responsible for any customs and tax charges for their order, as we will bear all costs.

What is my tracking number?
Tracking will be available 1-3 days after your order. Please do reach out if you haven't received yours after 7 by contacting support. 
My item arrived damaged, what should I do?
We do ship every item with extra padding. Despite this, our customers report that around 1 in 1000 products arrives damaged due to mail service mistreatment.
If this happens to you, please reach out with:
- A picture of the damaged product.
Once received, we'll be happy to send out another free of charge.
Contact us:
If we still haven't managed to answer your question please feel free to contact us at Info@Beumoon.com and we'll get back to within 24-48 hrs.