Silicone Water Retaining Strip
THE PERFECT WATER BARRIER!

💦
Tired of dealing with leaks, drips, and water damage around your home or workspace?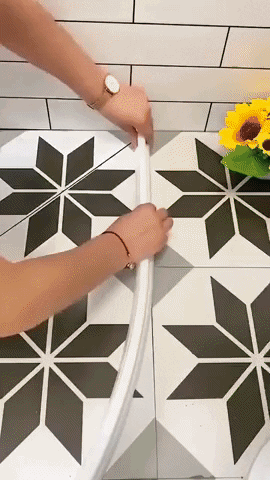 FEATURES
💧 Advanced Water Resistance: Our Silicone Water Retaining Strip is designed to provide superior water resistance in a variety of applications. Whether it's your bathroom, kitchen, or any area prone to moisture, this strip is your first line of defense.
🔒 Seal and Protect: Seal gaps and crevices effortlessly with our flexible silicone strip. It adheres securely to surfaces, preventing water from seeping through and causing costly damage to your property.
⚡360 Degree Bending: the silicone waterproof strip is very soft and will not hurt the body when stepped on. It can be used without glass door, elderly and children are safe
🌈 Versatile Design: The strip's sleek and modern design complements any decor. It's available in various colors to seamlessly blend with your surroundings, so you don't have to compromise aesthetics for functionality.
💪 Durable and Long-Lasting: Crafted from high-quality silicone, this strip is built to withstand the test of time. It's resistant to mold, mildew, and UV rays, ensuring it stays in top condition for years.
🧰 Easy Installation: No need for complicated tools or professional help. Our Silicone Water Retaining Strip comes with easy-to-follow instructions, making installation a breeze for DIY enthusiasts of all skill levels.
INSTALLATION

    1: Simply wipe the surface to ensure the floor is dry

    2: Determine and mark the installation location

    3: Remove adhesive and install in the marked location

    4: Dry for at least 24 hours before use


SPECIFICATIONS
Item type: household items

Material: silicone

Color: white, black, gray

Length: 1 m, 2 m, 4m.

PACKAGE INCLUDES:
    1* Silicone waterproofing strip.
We hope that your experience with Beumoon is as effortless as possible, however, we do acknowledge that questions may arise.
Where is my order?
You can find information about shipping & handling  and track your order in TRACK YOUR ORDER Please note customers are not responsible for any customs and tax charges for their order, as we will bear all costs.

What is my tracking number?
Tracking will be available 1-3 days after your order. Please do reach out if you haven't received yours after 7 by contacting support. 
My item arrived damaged, what should I do?
We do ship every item with extra padding. Despite this, our customers report that around 1 in 1000 products arrives damaged due to mail service mistreatment.
If this happens to you, please reach out with:
- A picture of the damaged product.
Once received, we'll be happy to send out another free of charge.
Contact us:
If we still haven't managed to answer your question please feel free to contact us at Info@Beumoon.com and we'll get back to within 24-48 hrs.