Rechargeable Electric Wine Bottle Opener
  THIS IS MORE THAN JUST ONE OPENER!😎
Look no further than our Rechargeable Electric Wine Bottle Opener, complete with additional gadgets for wine enthusiasts like you.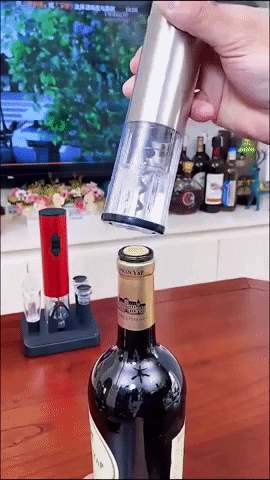 Effortless Wine Uncorking: Our electric wine bottle opener effortlessly removes corks in seconds, allowing you to savor your favorite vintages with ease.
Rechargeable Power: Our wine bottle opener comes with a rechargeable battery, ensuring you're always ready to uncork without the need for constant replacements. It's a sustainable choice for wine lovers.
 All-in-One Wine Gadget: But that's not all – our set includes a wine pouring gadget, making serving your wine a breeze. Plus, a vacuum sealer to preserve your wine's freshness once opened, ensuring it stays as exquisite as the first pour.
Whether you're hosting a dinner party, celebrating a special occasion, or simply enjoying a glass of wine at home, our Rechargeable Electric Wine Bottle Opener set adds a touch of elegance to every moment.
The Perfect Gift: Looking for a gift for a wine connoisseur? This set is a thoughtful choice. It combines convenience and style, making it an ideal present for any wine enthusiast.
It's more than just an opener; it's a complete wine ritual kit that transforms how you enjoy your wine.
SIZE:











We hope that your experience with Beumoon is as effortless as possible, however, we do acknowledge that questions may arise.
Where is my order?
You can find information about shipping & handling  and track your order in TRACK YOUR ORDER Please note customers are not responsible for any customs and tax charges for their order, as we will bear all costs.

What is my tracking number?
Tracking will be available 1-3 days after your order. Please do reach out if you haven't received yours after 7 by contacting support. 
My item arrived damaged, what should I do?
We do ship every item with extra padding. Despite this, our customers report that around 1 in 1000 products arrives damaged due to mail service mistreatment.
If this happens to you, please reach out with:
- A picture of the damaged product.
Once received, we'll be happy to send out another free of charge.
Contact us:
If we still haven't managed to answer your question please feel free to contact us at Info@Beumoon.com and we'll get back to within 24-48 hrs.