Pro-Herbal Refining Peel-Off Facial Mask
Turn your skin youthful again!
Our Herbal Refining Peel-Off Facial Mask helps lift away dull, dead skin plus dirt and debris to leave your skin looking clear and radiant. All while refining pores and detoxing, let your skin feels smooth and totally refreshed.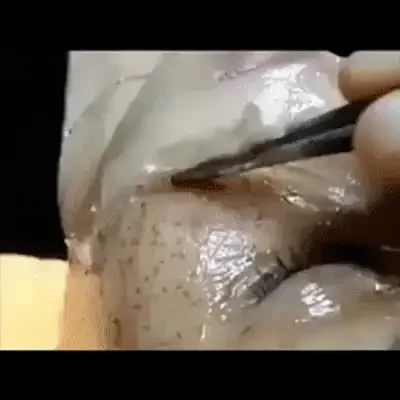 Simply apply the mask and peel it off after dried, with gentle exfoliation to remove blackheads and minimize pores, it also deeply moisturizes, gradually improve the look of puffiness, sagging, expression lines, and other visible signs of aging that can contribute to loss of facial definition.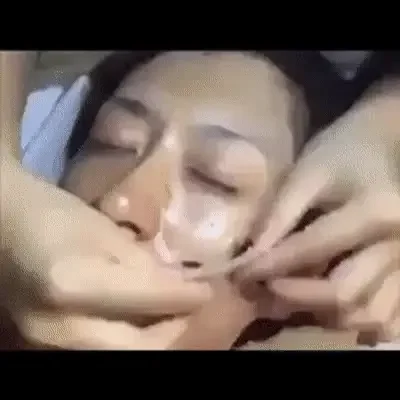 Enriched with Panax Ginseng and Caffeine From Coffee Beans, the particles penetrate the dermis rejuvenating collagen deep into the skin and activates cell renewal, eliminates toxins, promotes optimal conditions for the skin's natural beauty cycle and brightens uneven skin tone for restoring youthfulness. 
FEATURES
Shrink Pores & Moisturize
Panax Ginseng activates the basal cells and natural collagen growth of the skin, which increases the elasticity of the skin.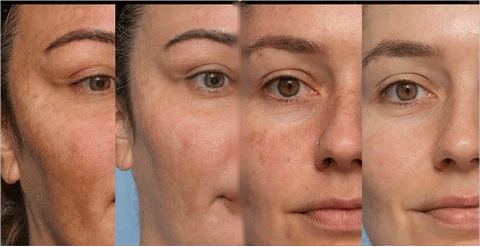 Stimulates Skin Cells
Caffeine From Coffee Beans leads to improved blood circulation and increased metabolism of skin cells and secretion of the waste.
Slow Down-Aging & Rejuvenating
Use of Ginseng and other natural herbal extracts can reduce the dryness of skin and helps in increasing the metabolic rate. This will prevent premature oxidation of the skin.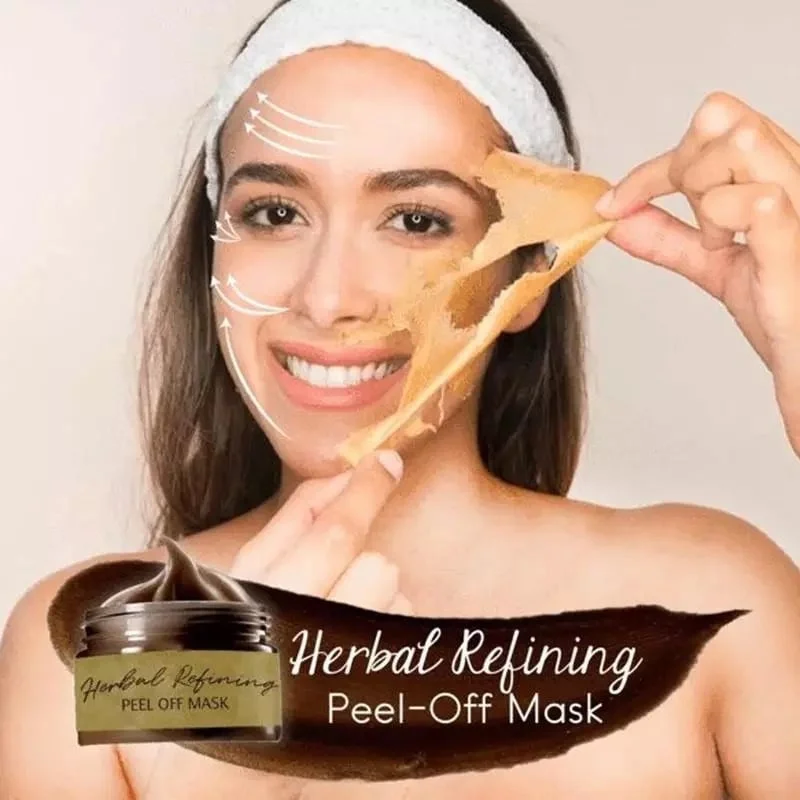 Blackheads Removal & Pores Minimizing
Gentle exfoliation to eliminate blackheads, acne, imperfection and it deeply cleans pores for acne-free skin.
Brightening to Reveal Radiance
Gold has brightening properties, which help to brighten and remove uneven skin tone.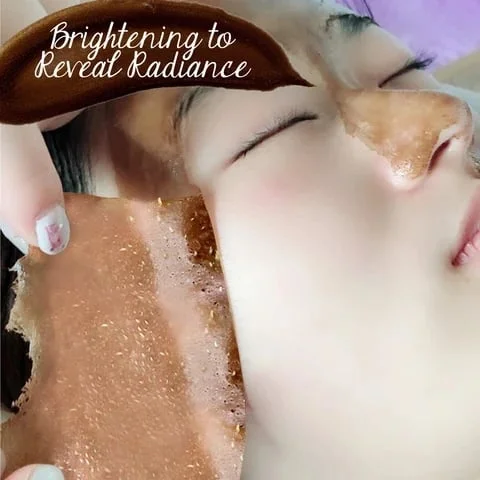 Moisturizing & Nourishing
Long-lasting hydration to improve resilience and firmness while providing softening and smoothing benefits.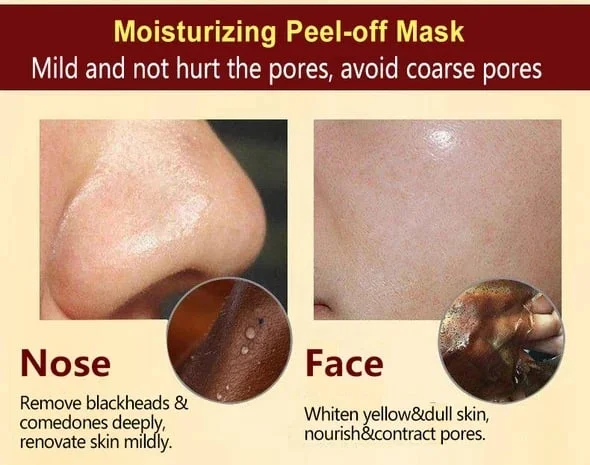 For All Skin Types & Body Parts
Dermatologist Tested; no side effects, safe for all skin types.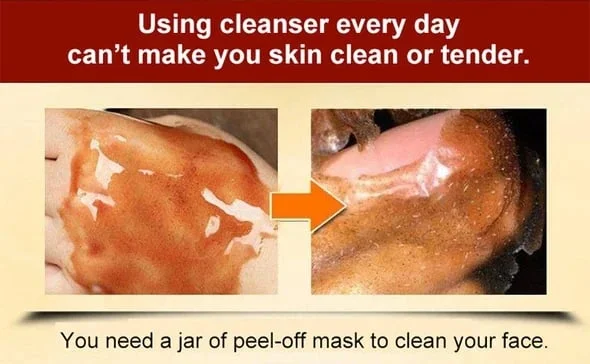 HOW TO USE
Wash your face with warm water and cover it with a hot towel to open the pores for better penetration of gold particles.

Spread the Herbal Refining Mask gently on your face and wait 15-20 minutes for it to dry. [Note: Don't spread too thick on skin, please remenber "Thin Spread"]

Peel off the mask gently from chin to forehead.

Rinse with cold water and for the best result you may apply your daily skin care products afterwards.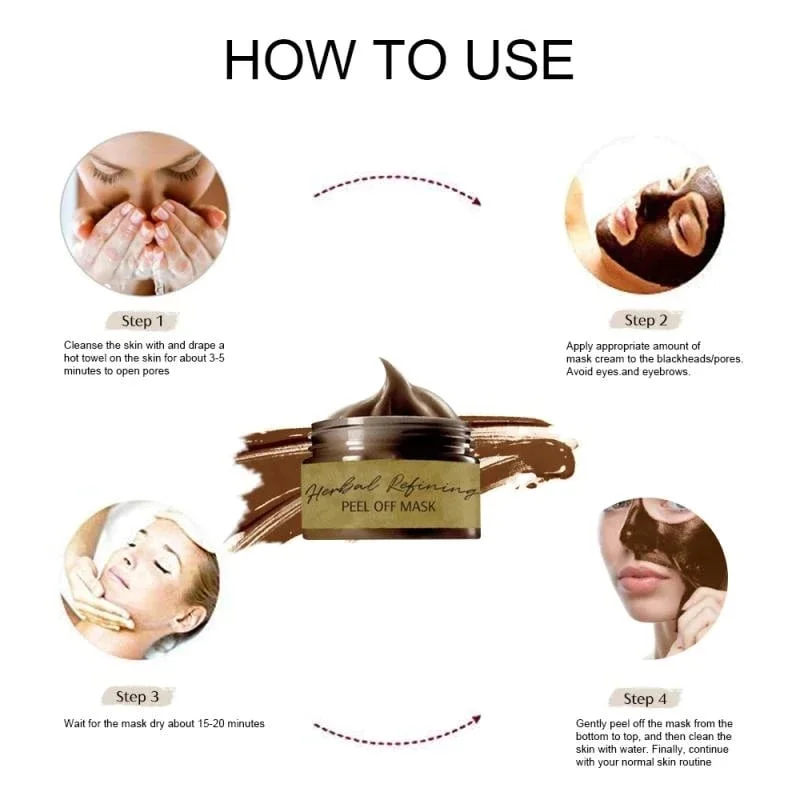 SPECIFICATIONS
Main Ingredients:

 

Caffeine From Coffee Beans, Glycerin, Sodium Hyaluronate, Pentylene Glycol, etc.
Weight:

 

80g
PACKAGE INCLUDES
1 PC x Pro-Herbal Refining Peel-Off Facial Mask
For each pieces of our product purchased, we donate a portion of our profit to support the Cruelty Free International organization, which helps to promote the protection of animals and end animal cruelty around the globe. By purchasing our product, you are supporting our cause to provide a more animal-friendly beauty culture. Don't hesitate to contribute to corporate your passion for beauty and animal today.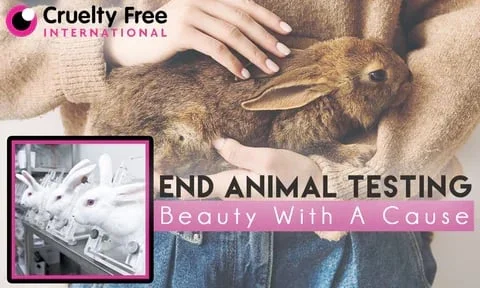 We hope that your experience with Beumoon is as effortless as possible, however, we do acknowledge that questions may arise.
Where is my order?
You can find information about shipping & handling  and track your order in TRACK YOUR ORDER Please note customers are not responsible for any customs and tax charges for their order, as we will bear all costs.

What is my tracking number?
Tracking will be available 1-3 days after your order. Please do reach out if you haven't received yours after 7 by contacting support. 
My item arrived damaged, what should I do?
We do ship every item with extra padding. Despite this, our customers report that around 1 in 1000 products arrives damaged due to mail service mistreatment.
If this happens to you, please reach out with:
- A picture of the damaged product.
Once received, we'll be happy to send out another free of charge.
Contact us:
If we still haven't managed to answer your question please feel free to contact us at Info@Beumoon.com and we'll get back to within 24-48 hrs.