STAY COOL ANYWHERE WITH OUR WAIST FAN!😎
Are you tired of the scorching summer heat leaving you sweaty and uncomfortable wherever you go? Look no further! Introducing our Portable Waist Fan - the ultimate solution to beat the heat and stay refreshed on the move.
Portable and Hands-Free: Our Waist Fan is designed to be lightweight and easy to wear. Simply strap it around your waist or hanging around your neck and you'll have a powerful cooling companion wherever you go. Enjoy the freedom of keeping your hands unrestricted while staying cool.

Adjustable Airflow: Customize your cooling experience with adjustable fan speed settings. Whether you need a gentle breeze or a stronger gust of air, our Waist Fan lets you control the airflow to match your comfort level.
Rechargeable and Long-lasting: Powered by a rechargeable battery, our fan provides hours of cooling relief on a single charge. Say goodbye to the hassle of constantly replacing batteries and stay cool all day long!
Whisper-quiet Operation: Don't let the noise disrupt your peaceful summer moments. Our Waist Fan operates silently, allowing you to enjoy its refreshing breeze without any distractions.
Versatile Use: Perfect for outdoor activities, sports events, hiking, biking, gardening, or even just strolling around town, our Waist Fan is your go-to accessory to combat the heat and humidity this summer.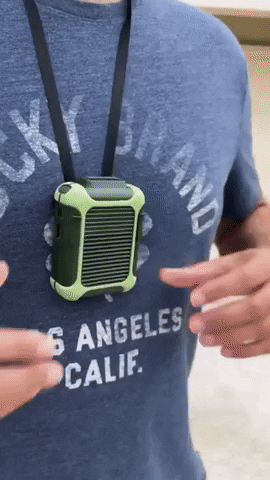 No matter where you are - at the beach, on a hike, or waiting for public transport - our Waist Fan ensures you stay cool and comfortable, minimizing the effects of the sweltering heat.

Get Your Portable Waist Fan Now!
We hope that your experience with Beumoon is as effortless as possible, however, we do acknowledge that questions may arise.
Where is my order?
You can find information about shipping & handling  and track your order in TRACK YOUR ORDER Please note customers are not responsible for any customs and tax charges for their order, as we will bear all costs.

What is my tracking number?
Tracking will be available 1-3 days after your order. Please do reach out if you haven't received yours after 7 by contacting support. 
My item arrived damaged, what should I do?
We do ship every item with extra padding. Despite this, our customers report that around 1 in 1000 products arrives damaged due to mail service mistreatment.
If this happens to you, please reach out with:
- A picture of the damaged product.
Once received, we'll be happy to send out another free of charge.
Contact us:
If we still haven't managed to answer your question please feel free to contact us at Info@Beumoon.com and we'll get back to within 24-48 hrs.