SLEEP LIKE A BABY IN THE OUTDOORS IT'S POSSIBLE NOW WITH OUR MATTRESS 
When you're in the outdoors, restorative rest is essential! Now, getting your beauty sleep while camping is possible with our outdoor mattress. Sleep like a baby on our 2.2-inch-thick camping mat and tackle the day to come!
Hiking the great outdoors is tough. After a hiking day, most backpackers are tired enough to pass out face-first when they arrive at their setup spot. Luckily, we've created the ultimate inflatable mattress for outdoor enthusiasts.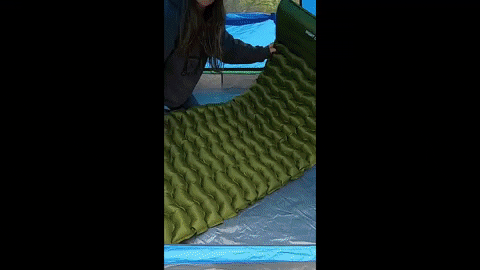 Extremely Durable

As hikers & campers ourselves, we were sick and tired of having mats pop on us! This is why we made sure the mattress we created wasn't going to do so... We used durable dual-layered material for ultimate resistance!
 Ultra Lightweight

The typical outdoor mattress weighs 1-2kg. Ridiculous! With a finished product weight of only 490 grams, we made it our goal to minimize our mattress's weight as much as possible..
 Super Compact

One of our customer's favorite features of this mat is the fact that it is as small as a water bottle when it's folded and stored in its carrying bag.
 Cold Protection

Your body absorbs the cold 10x faster from the ground than it does from surrounding cold air. So when camping, the last thing you want is a mattress that does this, too. That is why we have an ergonomically designed, multi-layer system inside our mats to ensure absolutely minimal heat is passed from you to the ground, achieving an R-value of 4.2.
 Built-In Pillow

The top of the mattress is padded in the shape of a pillow to provide a proper cushion for your head and neck, which is critical to your comfort and a night of good sleep.
We hope that your experience with Beumoon is as effortless as possible, however, we do acknowledge that questions may arise.
Where is my order?
You can find information about shipping & handling  and track your order in TRACK YOUR ORDER Please note customers are not responsible for any customs and tax charges for their order, as we will bear all costs.

What is my tracking number?
Tracking will be available 1-3 days after your order. Please do reach out if you haven't received yours after 7 by contacting support. 
My item arrived damaged, what should I do?
We do ship every item with extra padding. Despite this, our customers report that around 1 in 1000 products arrives damaged due to mail service mistreatment.
If this happens to you, please reach out with:
- A picture of the damaged product.
Once received, we'll be happy to send out another free of charge.
Contact us:
If we still haven't managed to answer your question please feel free to contact us at Info@Beumoon.com and we'll get back to within 24-48 hrs.