Mini Darning Loom Machine - LoomExpress
Due to high demand, we only have 30 units available at 50% discount.
The most convenient darning machine! 
The Darning Mini Loom Machine is great for repairing your favorite things and design plans and can increase productivity and improve the quality of work.
Creative Sewing Tool - This small weaving loom can create more beautiful creations for craft lovers. Ideal for darning and the art of design plans. The most convenient darning machine is also promoting creativity in your kids.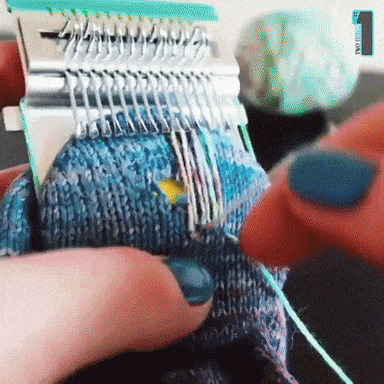 Sewing Helper - The weaving tool copes with the repair of small holes in clothes, you can create various patterns in the design, it can be used for mending jeans, socks, and clothes, can weave tapestries, mats, carpets, scarves, etc. 
Weaving Tools Structure - The weaving tool device consists of two parts metal with hooks and a wooden plate. 
Easy to Use - Just stretch the fabric over the tool, use the rubber bands to fix the fabric and loom in place, set up your warps, and get weaving. Ideal for darning and the art of design plans.
Package Includes: 1 x Darning Mini Loom Machine (10pin/12pin/14pin/21pin/28pin)
We hope that your experience with Beumoon is as effortless as possible, however, we do acknowledge that questions may arise.
Where is my order?
You can find information about shipping & handling  and track your order in TRACK YOUR ORDER Please note customers are not responsible for any customs and tax charges for their order, as we will bear all costs.

What is my tracking number?
Tracking will be available 1-3 days after your order. Please do reach out if you haven't received yours after 7 by contacting support. 
My item arrived damaged, what should I do?
We do ship every item with extra padding. Despite this, our customers report that around 1 in 1000 products arrives damaged due to mail service mistreatment.
If this happens to you, please reach out with:
- A picture of the damaged product.
Once received, we'll be happy to send out another free of charge.
Contact us:
If we still haven't managed to answer your question please feel free to contact us at Info@Beumoon.com and we'll get back to within 24-48 hrs.