MAKE YOUR CLEANING ROUTINE A BREEZE!💦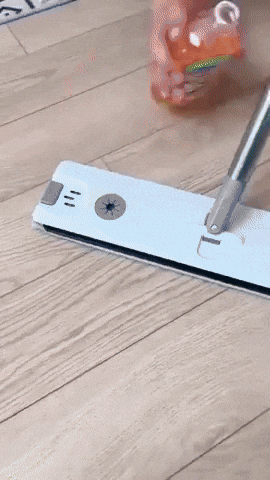 FEATURES:
Drain Scraper for Ultimate Hygiene: Our Large Flat Mop is equipped with a convenient drain scraper. Move it up and down to easily drain excess water from the mop. The tooth comb feature is perfect for removing hair and other debris, keeping your mop clean and hygienic. No more messy hands or direct contact with dirty mop heads.
Ergonomic Long Handle: Tired of constantly bending and squatting while cleaning? Our mop comes with a long handle featuring three adjustable sections, measuring a total of 137cm. This design is suitable for people of all heights and reduces the strain on your back. Crafted from sturdy stainless steel, you can trust its durability for long-lasting use.
360° Free Rotating Mop Head: Achieve a thorough clean in every nook and cranny of your home with our 360° free rotating mop head. It effortlessly reaches those hard-to-clean areas under beds and sofas, preventing dust buildup. Hang it vertically on your wall with the built-in hook to save space and keep your mop easily accessible.
Microfiber Magic: Our Large Flat Mop is equipped with a high-quality microfiber pad with excellent water-absorbing capabilities. It can absorb multiple times its own weight in water and efficiently capture hair and dust from your floors. Plus, you can toss the microfiber pad into your washing machine for easy cleaning. It retains its shape and functionality even after countless washes.
Versatile Cleaning Power: No need to worry about compatibility! Our mop is crafted from top-notch materials, making it suitable for cleaning a wide range of hard floors, including tile, wood, laminate, resin, and more.

Cleaning has never been this easy – get your Large Flat Mop now!
We hope that your experience with Beumoon is as effortless as possible, however, we do acknowledge that questions may arise.
Where is my order?
You can find information about shipping & handling  and track your order in TRACK YOUR ORDER Please note customers are not responsible for any customs and tax charges for their order, as we will bear all costs.

What is my tracking number?
Tracking will be available 1-3 days after your order. Please do reach out if you haven't received yours after 7 by contacting support. 
My item arrived damaged, what should I do?
We do ship every item with extra padding. Despite this, our customers report that around 1 in 1000 products arrives damaged due to mail service mistreatment.
If this happens to you, please reach out with:
- A picture of the damaged product.
Once received, we'll be happy to send out another free of charge.
Contact us:
If we still haven't managed to answer your question please feel free to contact us at Info@Beumoon.com and we'll get back to within 24-48 hrs.