Spark Joy and Education with Every Launch🚗
Designed to captivate young minds and encourage a love for science and exploration, this innovative toy promises hours of interactive fun and educational excitement.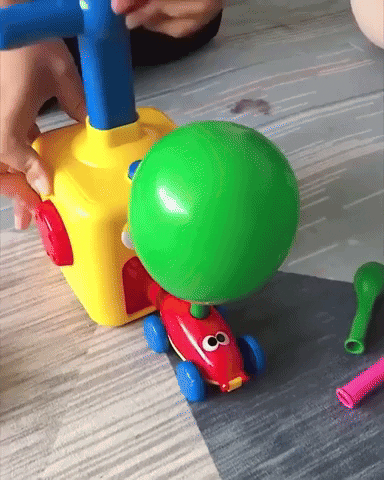 Innovative Play, Endless Joy 🎉
The vibrant colors enhance visual appeal, creating a visually stimulating toy that captures the attention of young learners. Whether in the living room or the backyard, the Balloon-Powered Launch Car Kit is ready for action on any terrain.

Say Goodbye to Unsafe Toys 🛡️
The balloon, when attached to the launcher, becomes the source of energy that propels the car forward. It's a simple yet fascinating mechanism that introduces children to basic scientific principles in a way that is both accessible and exciting. The inflatable car, designed with safety in mind, adds a layer of tactile fun to the learning experience.
Boredom Busters Made Simple 🚀
The exploration doesn't stop with the launch – our kit includes a delightful astronaut figurine. This addition sparks imaginative play, allowing young minds to envision space missions and cosmic adventures. As children engage in creative scenarios, they not only have fun but also develop crucial cognitive skills such as problem-solving and storytelling.
We hope that your experience with Beumoon is as effortless as possible, however, we do acknowledge that questions may arise.
Where is my order?
You can find information about shipping & handling  and track your order in TRACK YOUR ORDER Please note customers are not responsible for any customs and tax charges for their order, as we will bear all costs.

What is my tracking number?
Tracking will be available 1-3 days after your order. Please do reach out if you haven't received yours after 7 by contacting support. 
My item arrived damaged, what should I do?
We do ship every item with extra padding. Despite this, our customers report that around 1 in 1000 products arrives damaged due to mail service mistreatment.
If this happens to you, please reach out with:
- A picture of the damaged product.
Once received, we'll be happy to send out another free of charge.
Contact us:
If we still haven't managed to answer your question please feel free to contact us at Info@Beumoon.com and we'll get back to within 24-48 hrs.