Hair Mask - ShinyMask Repair®
Healthy and shiny hair in seconds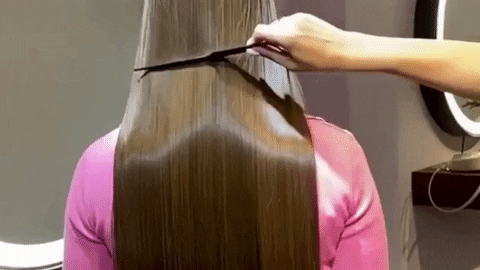 Damaged hair is an annoyance for everyone, but especially for women. Hair that comes loose when combing, hair that quickly becomes heavy and greasy, and frizzy hair. All these hair problems often make you feel less confident.

That's why ShinyHair Repair® offers the solution. This new natural hair mask is hydrolyzed with keratin, which effectively repairs weak, damaged hair and renews its elasticity. No more frizzy hair, no more broken ends, no more color changes. With ShinyHair Repair®, you'll have smooth, silky hair instantly and for days!

 Say goodbye to your hair problems

ShinyHair Repair® is a deep conditioning treatment that helps smooth hair cuticles, untangle knots and breakage, and give hair a new shine. No matter how rough your hair has felt lately, this intensive formula will bring it back to life. This product effectively combats frizz and is suitable for all hair types.

 The best for your hair

ShinyHair Repair® was developed to help your hair recover naturally and quickly. Thanks to the unique composition of coconut, avocado, and vitamins B and E, after using the hair mask you will have a great result in seconds every time. You can use the hair mask on both dry and wet hair.


Gives your hair volume
This powerful new formula works with your hair to repair damage and restore lost volume. So you can enjoy your beautiful healthy hair again.


  Suitable for all hair types
ShinyHair Repair can repair any hair type from the inside out, no matter how damaged it is. With a healthy blend of nutrients, vitamins, and amino acids, ShinyHair promises to give your hair back its original shine.

 Prevents common hair problems
Prevents common hair problems such as frizzy, dry hair, and broken ends. It contains no silicones and parabens. This makes your scalp safe. Plus, you no longer have to worry about color changes in your hair.


 Take control of your hair
We, women, know how important our hair is to us. From now on, you don't have to worry about the health of your hair. Give your hair the care it deserves and feel confident every day.


 How to use:

Apply the hair mask to your hair and leave it on for 5 minutes.
Gently massage your scalp for 2-5 minutes while applying the mask.
After 5 minutes, rinse off the mask and you are ready to go!

We hope that your experience with Beumoon is as effortless as possible, however, we do acknowledge that questions may arise.
Where is my order?
You can find information about shipping & handling  and track your order in TRACK YOUR ORDER Please note customers are not responsible for any customs and tax charges for their order, as we will bear all costs.

What is my tracking number?
Tracking will be available 1-3 days after your order. Please do reach out if you haven't received yours after 7 by contacting support. 
My item arrived damaged, what should I do?
We do ship every item with extra padding. Despite this, our customers report that around 1 in 1000 products arrives damaged due to mail service mistreatment.
If this happens to you, please reach out with:
- A picture of the damaged product.
Once received, we'll be happy to send out another free of charge.
Contact us:
If we still haven't managed to answer your question please feel free to contact us at Info@Beumoon.com and we'll get back to within 24-48 hrs.