Glass Cutting Disc Ceramic
CUTTING GLASS HAS NEVER BEEN SO EASY, QUICK, AND EASY!😱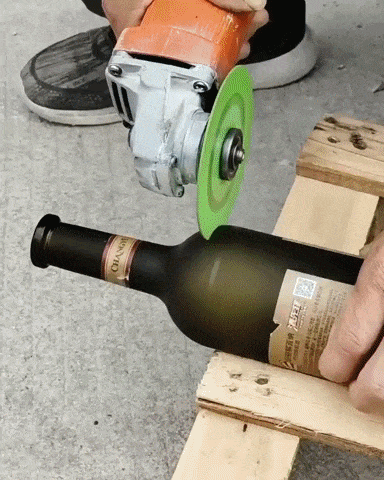 The diamond cutting blade is
resistant to high temperatures to reduce vibration and make straighter, faster cuts.
It is sharp and non-collapsing, one piece is multi-purpose, the indentation is small and it is resistant to cutting and wear.

Scope of application: For smooth cutting, bevelling, and grinding of glass, jade, crystal, wine bottles, ceramics, ceramic tiles, and other materials.

Splinter-free cutting: The ultra-fine 1 mm saw blade does not damage the surface of the object, the grinding force is uniform and the smoothness is good, with low grinding noise and less dust, minimal waste, and a first-class cut!

Easy to use: Designed for use with the Model 100 angle grinder, it is easy to set up and use and can withstand the demands of dry/wet cutting and long continuous cuts.

Advanced materials: Use of diamond, new brazing process, improved and upgraded blade, more convenient, safer, and longer life span.
We hope that your experience with Beumoon is as effortless as possible, however, we do acknowledge that questions may arise.
Where is my order?
You can find information about shipping & handling  and track your order in TRACK YOUR ORDER Please note customers are not responsible for any customs and tax charges for their order, as we will bear all costs.

What is my tracking number?
Tracking will be available 1-3 days after your order. Please do reach out if you haven't received yours after 7 by contacting support. 
My item arrived damaged, what should I do?
We do ship every item with extra padding. Despite this, our customers report that around 1 in 1000 products arrives damaged due to mail service mistreatment.
If this happens to you, please reach out with:
- A picture of the damaged product.
Once received, we'll be happy to send out another free of charge.
Contact us:
If we still haven't managed to answer your question please feel free to contact us at Info@Beumoon.com and we'll get back to within 24-48 hrs.