Floating Liquid Hourglass
Experience the hypnotic beauty of time with color-filled floating moments💥
🌟 Mesmerizing Visual Experience.
🕛 Perfect Time Management Tool.
🏡 Enhances Home Décor.
🌹 Great Gift for All Ages.
Discover the Fluid Beauty of Time 😍
This isn't just an hourglass; it's a unique blend of science and art. The Hourglass turns time into a captivating visual spectacle by collecting the liquid in a hypnotic, gradual flow that will transform any space into a wonderland of colors.
 Bored with traditional clocks and timers? 🙄
Say goodbye to boring digital numbers and outdated sand hourglasses. Our Floating Liquid Hourglass offers a fun and engaging way to track time. Bright colorful swirls make each passing moment exciting!
 Need a unique gift or a captivating desk décor? 🚩
Our hourglass is an ideal choice for those needing a touch of color in their room or office. It's also a perfect gift for children to develop sensory skills or for anyone who appreciates functional art.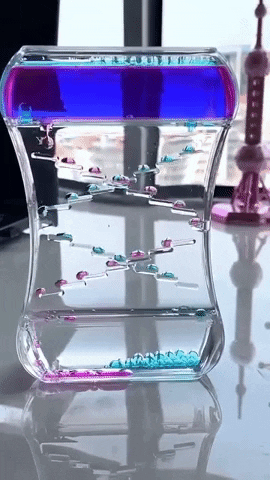 Experience the Floating Liquid Hourglass today with our 14-day money-back guarantee!
We believe in the magic of Floating Liquid Hourglass. That's why we offer a full refund if it doesn't bring color, serenity, and enjoyment to your life within 14 days.
We hope that your experience with Beumoon is as effortless as possible, however, we do acknowledge that questions may arise.
Where is my order?
You can find information about shipping & handling  and track your order in TRACK YOUR ORDER Please note customers are not responsible for any customs and tax charges for their order, as we will bear all costs.

What is my tracking number?
Tracking will be available 1-3 days after your order. Please do reach out if you haven't received yours after 7 by contacting support. 
My item arrived damaged, what should I do?
We do ship every item with extra padding. Despite this, our customers report that around 1 in 1000 products arrives damaged due to mail service mistreatment.
If this happens to you, please reach out with:
- A picture of the damaged product.
Once received, we'll be happy to send out another free of charge.
Contact us:
If we still haven't managed to answer your question please feel free to contact us at Info@Beumoon.com and we'll get back to within 24-48 hrs.