Detangler Bristle Nylon Hairbrush
WHINING AND SCREAMING WHEN BRUSHING THE HAIR?

That's why we designed our detangling hairbrush. With its innovative design combining boar bristles and nylon tips, the brush glides smoothly over tangled hair without the discomfort of traditional brushes.
This bristle and nylon hair brush is quick-drying and easy to clean. The non-slip design rubber handle is convenient to hold. It can massage your head during comb, why not try it?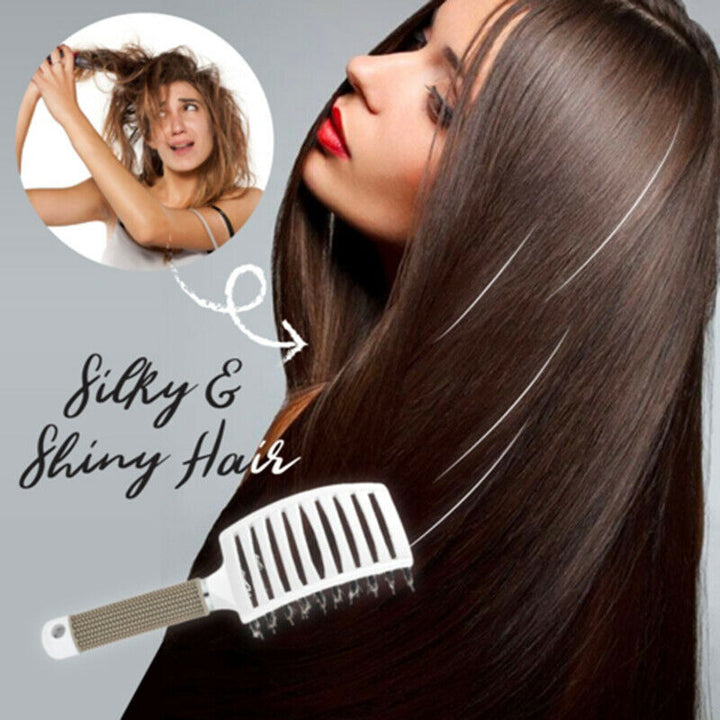 ✔️ Gentle on Your Hair: Designed with the utmost care, this brush is perfect for all hair types, including fine, thick, curly, or straight hair. The nylon bristles are soft and flexible, ensuring they won't pull or break your precious strands.

✔️ Ergonomic Design: The brush's ergonomic handle fits comfortably in your hand, providing a secure grip and making it a pleasure to use.

✔️ Vented For Blow Drying - This boar bristle hairbrush is vented for faster drying with a blow dryer.
✔️ Healthier Hair: By preventing hair breakage and minimizing split ends, our Detangler Bristle Nylon Hairbrush promotes healthier and more vibrant hair. Enjoy a noticeable improvement in the quality of your locks with each use.
✔️ For All Hair Types – It can be used by men & women regardless of the hair type. Fine hair can take advantage of the boar bristles stimulating natural hair oils for healthier hair, while thicker hair will enjoy the detangling features of this hairbrush.
Whether you have unruly curls or delicate waves, our hairbrush will become your daily essential, leaving you with hair that's not only tangle-free but also healthier and more beautiful. Say hello to the hair you've always dreamed of having.
Specification
Material: Boar Bristle & Nylon
Size: 1.33 x 3.07 x 9.6 inch
Package Include
1 x Bristle Nylon Hairbrush
We hope that your experience with Beumoon is as effortless as possible, however, we do acknowledge that questions may arise.
Where is my order?
You can find information about shipping & handling  and track your order in TRACK YOUR ORDER Please note customers are not responsible for any customs and tax charges for their order, as we will bear all costs.

What is my tracking number?
Tracking will be available 1-3 days after your order. Please do reach out if you haven't received yours after 7 by contacting support. 
My item arrived damaged, what should I do?
We do ship every item with extra padding. Despite this, our customers report that around 1 in 1000 products arrives damaged due to mail service mistreatment.
If this happens to you, please reach out with:
- A picture of the damaged product.
Once received, we'll be happy to send out another free of charge.
Contact us:
If we still haven't managed to answer your question please feel free to contact us at Info@Beumoon.com and we'll get back to within 24-48 hrs.