Hands-Free Dust Collector
Ending the mess after drilling!
No dust in the air anymore when drilling!!
Drilling more cleaner, faster and smarter, instead of harder!!!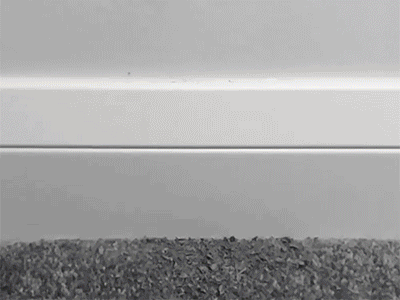 Hands-free Dust Collector provides a safer and more effective way to remove the dust and debris of all types of materials from all types of drilling. Specially designed for professional tradespeople and DIY enthusiasts.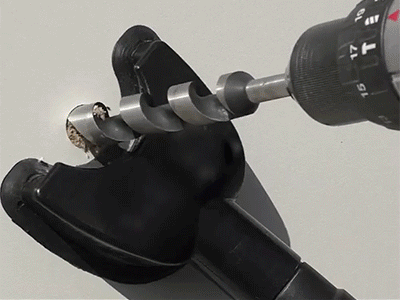 Why you need it:
√ Hands-free dust extraction solution for drilling
√ Fits almost any hose vacuums
√ Works with corded and cordless vacuums
√ Sticks to almost any wall surfaces
√ Works with all drill types
√ Minimizes dangerous airborne particles
√ Maximizes suction around the drill bit
Main Features
Hands-Free Use
The base of the tool is manufactured from a soft flexible silicone type rubber, this allows the tool to stick efficiently to many surfaces, leaving your hands free to control the drill.
Easy to Use

Just stick it to the wall and turn it on, it will cleverly divert the vacuum flow and increases the velocity of the suction to the mouth of the tool. And providing extremely efficient removal of dust and debris. It can also safely contain water leaks.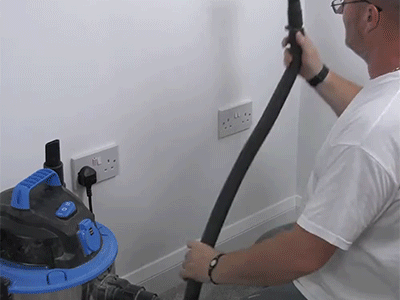 Works with All Drill Types
Hands-free Dust Collector effectively works with Spade Bits, Bullet Bits, High-Speed Steel Bits, Tile Drills, Masonry Bits, Hole Saws, and even Auger Bits.
The extraction port at the mouth of the tool is nearly 70mm wide, allowing various drill bits and hole saws of up to 60mm to be used effectively.
Powerful Suction Design
Due to the unique internal design and flexible seal, the tool creates almost 8lbs of surface suction which means it will effortlessly stick to almost any surface. Powerful suction makes it even work upside down!
The amount of suction produced by the tool will always be dependant on the power of the vacuum it is attached to.
Fit Almost Any Surfaces
It will stick to laminated surfaces, wood, metal, plastic, plastered and painted walls, concrete, Celcon blocks, bricks, and even work on ceilings.
Large Capacity
The internal space of the dust collector is greater than 2 square Cm's that it can remove larger materials like Wood and Composite board with ease. No more blowing dust in the air when drilling!
Tapered Hose Adapter
It's made from a flexible polymer that allows it to expand and contract under tension,  increases its functionality. Each leading edge section of the adapter is tapered, which helps provide an almost effortless compression fitting to your tools and hoses.
Protect Yourself & Others
It provides extremely efficient removal of dust and debris. More importantly, it creates a far safer working environment for both you and anyone around you.
Usage Scenarios 
Perfect for working at home, garage, workshop or the construction site. Solve the cleaning problem of dust and wood chips produced by drilling, woodworking, etc.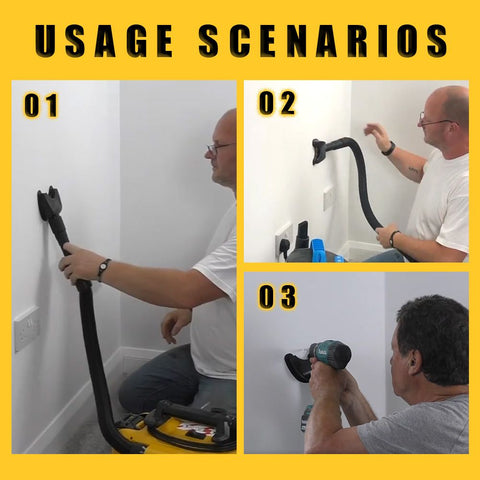 Specifications
Material: ABS, Polymer
Color: Black
Weight: 140g
Package Size: 20x14x8cm
Package Includes: 1x  Hands-Free Dust Collector
We hope that your experience with Beumoon is as effortless as possible, however, we do acknowledge that questions may arise.
Where is my order?
You can find information about shipping & handling  and track your order in TRACK YOUR ORDER Please note customers are not responsible for any customs and tax charges for their order, as we will bear all costs.

What is my tracking number?
Tracking will be available 1-3 days after your order. Please do reach out if you haven't received yours after 7 by contacting support. 
My item arrived damaged, what should I do?
We do ship every item with extra padding. Despite this, our customers report that around 1 in 1000 products arrives damaged due to mail service mistreatment.
If this happens to you, please reach out with:
- A picture of the damaged product.
Once received, we'll be happy to send out another free of charge.
Contact us:
If we still haven't managed to answer your question please feel free to contact us at Info@Beumoon.com and we'll get back to within 24-48 hrs.