Brazed Dry Drill Multifunction
Drill the perfect hole in hard materials! It's never been this easy😱
Our Brazed Dry Drill Multifunction can be used to easily cut: hard tiles, ceramic, marble and slate, glass, granite, jade and other materials. Materials that cannot be drilled: wall, metal, wood.

The inside of the drill body contains cooling wax to cool and lubricate the drill bit. Direct dry drilling without adding water for faster, more precise drilling.


Chip Flute Design: The cutting edge adopts a chip removal groove design to easily remove chips, easy to clean, and greatly improve the punching efficiency. Less debris, less breakage, less heat, and a good finish.



Sets include common sizes and are ideal for home and professional use. Widely used for perforating

 ceramic tile, vitrified tiles, glass, ceramics, marble, granite, microcrystalline stone, and quartz stone.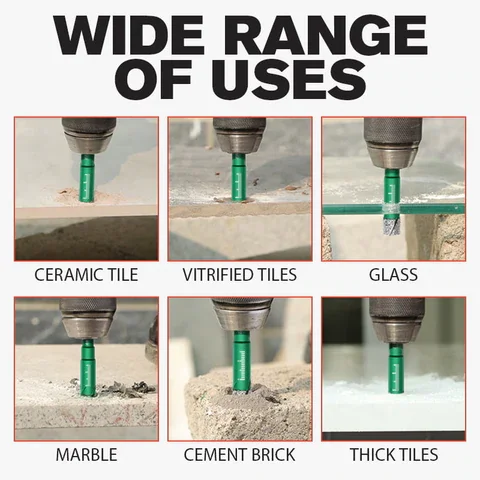 Made of high-quality diamond and flame-retardant brazing, high hardness, rust-proof and wear-resistant, good toughness. The punching will not damage the material and drill bit at the same time, it is sharp and durable.
Using Methods
Step1:

First, tilt 45° to open the positioning slot;

Step2:

Then drill the hole vertically and shake while drilling the hole, drain debris.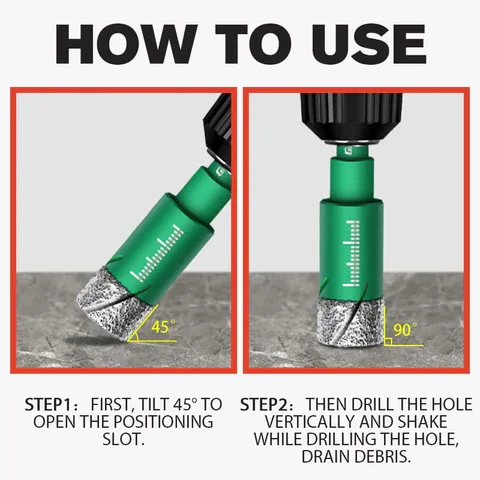 We hope that your experience with Beumoon is as effortless as possible, however, we do acknowledge that questions may arise.
Where is my order?
You can find information about shipping & handling  and track your order in TRACK YOUR ORDER Please note customers are not responsible for any customs and tax charges for their order, as we will bear all costs.

What is my tracking number?
Tracking will be available 1-3 days after your order. Please do reach out if you haven't received yours after 7 by contacting support. 
My item arrived damaged, what should I do?
We do ship every item with extra padding. Despite this, our customers report that around 1 in 1000 products arrives damaged due to mail service mistreatment.
If this happens to you, please reach out with:
- A picture of the damaged product.
Once received, we'll be happy to send out another free of charge.
Contact us:
If we still haven't managed to answer your question please feel free to contact us at Info@Beumoon.com and we'll get back to within 24-48 hrs.