360º Rotation Universal Wheels
NO MORE PROBLEMS MOVING YOUR FURNITURE!
You just need to paste the stainless steel universal wheel on the bottom of the furniture, then the heavy furniture or box can be easily moved, and the silent wheels are stable and quiet, will not scratch the ground, which is not easy to shake when pushing, and it is better to disperse the force and load.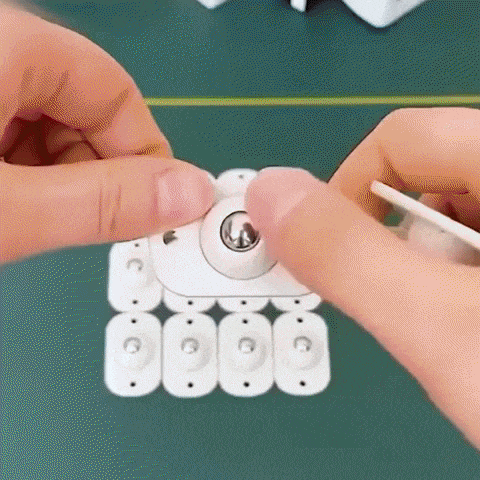 Suitable for moving and cleaning, can be applied to various types and sizes of storage boxes and packing boxes.
Ball-type paste pulley, can slide to any angle, not limited, completely silent when used. Suitable for makeup storage, kitchen, tabletop, bedroom, bathroom, living room, and lower shelf storage.
Effective and labour-saving: simply attach the universal wheel to the bottom of the box, and the heavy box can be moved easily!
360 degree free rotation: ball-shaped pulley pulley pulley, which can slide at any angle.
Good load bearing: the roller frame is made of high quality ABS material, which is strong and wear-resistant and has a long service life.
It can easily move heavy objects without stress.
We hope that your experience with Beumoon is as effortless as possible, however, we do acknowledge that questions may arise.
Where is my order?
You can find information about shipping & handling  and track your order in TRACK YOUR ORDER Please note customers are not responsible for any customs and tax charges for their order, as we will bear all costs.

What is my tracking number?
Tracking will be available 1-3 days after your order. Please do reach out if you haven't received yours after 7 by contacting support. 
My item arrived damaged, what should I do?
We do ship every item with extra padding. Despite this, our customers report that around 1 in 1000 products arrives damaged due to mail service mistreatment.
If this happens to you, please reach out with:
- A picture of the damaged product.
Once received, we'll be happy to send out another free of charge.
Contact us:
If we still haven't managed to answer your question please feel free to contact us at Info@Beumoon.com and we'll get back to within 24-48 hrs.